Few would dispute that boys and girls are wired differently and consequently develop both physically and emotionally at different speeds, have different learning styles, as well as diverse motivations. Building confidence and self-esteem are key factors to attaining success in a child's education. It is not hard, therefore, to comprehend why children in single sex schools thrive, since they are studying in an environment which recognises these differences and is consequently tailor-made in terms of educational setting and atmosphere.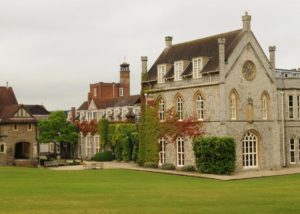 Single sex schools have the advantage of being able to offer teaching styles, subject choices, sporting opportunity and a full extra-curricular programme, which are entirely focussed on either boys or girls. Competition within this setting tends to lead to a general acceptance amongst peers that it is 'cool' to work hard and excel in terms of academic, musical, sporting and dramatic achievement, whereas competition within a mixed environment can sometimes knock the confidence and motivation of those who are not out-going and extraverted.
Despite the fact that many boys' and girls' schools are at the top of their game academically, they often have a more relaxed environment. This relaxed environment is created, in part, because boys and girls don't need to worry about impressing the other gender. The students can be themselves in class, and they can speak openly and honestly.
Speaking of Single-Sex schools for girls, we would like to mention City of London School for Girls that is in London. The school was founded using a bequest by William Ward, a merchant of Brixton, in 1894. It was his conviction that girls should be given a broad and liberal education. The school has an outstanding academic reputation and leading league table results.
Wycombe Abbey is another independent girls' boarding school in High Wycombe, Buckinghamshire, England. Consistently ranked as one of the top schools regionally and nationally in academic results, the school was founded in 1896 by Frances Dove, who was previously headmistress of St Leonards School in Scotland. Its present capacity is approximately 615 girls, aged 11 to 18. The school is situated on a 170 acres campus in central High Wycombe. As at most independent schools, the pupils are placed in houses. The houses at Wycombe Abbey are: Airlie, Barry, Butler, Campbell, Cloister, Pitt, Rubens, Shelburne and Wendover. Girls in UVI live in Clarence, while the junior-most girls, UIIIs, live in Junior House. Every house at Wycombe Abbey is linked to a colour and, as part of the school uniform, girls wear ties which correspond to their House colour. Each girl has her own 'House Mother', a girl in the year above in the same house who looks after her, particularly when new to the school.
Badminton School is an independent, boarding and day school for girls aged 3 to 18 years situated in Westbury-on-Trym, Bristol, England. Named after Badminton House in Clifton where it was founded, the school has been located at its current site since 1924 and consistently performs well in the government's league tables, particularly at A Level.  Other good schools for girls are: Haberdashers Askes School for Girls (Elstree, Borehamwood), Manchester High School for Girls (Grangethorpe Road, Manchester), North London Collegiate School (London), St. Helen and St. Katharine (Faringdon Rd, Abingdon). There are also lots of other excellent schools for girls in the UK.
There are a number of famous boys' schools in the UK such as Eton College (Windsor), Kings College School (Wimbledon, London), St Pauls School (London). There are also lots of other good boys' schools. These schools offer a wide-ranging curriculum, from science and languages, to design technology and history. Boys' schools are able to offer a tailored learning approach in order to meet boys' developmental needs.
If you think a single sex environment could be right for you child or if you need help deciding which school model is right for your child, please get in touch today for expert and impartial advice on the best school.
Please contact us for professional advice: info@beststarteducation.com
Tel. +44  79307  32407
Elena Colquhoun, MSc, PGCE, ACIL,
Director Best Start Education, qualified teacher and examiner