We would like to share with you some references from our customers. We would also be glad to hear from you – the feedback helps us to improve further. Your positive references motivate our employees to maintain a high level of the services we provide, and all your comments and suggestions give us direction for continuous development.
'I would like to say thank you to Elena Colquhoun and the Best Start Education team. For many years, starting from 2017, our son Rinat has been living and studying in England, far away from me. And all these years, I have been living peacefully and rejoicing in the successes of my son. Let me begin by saying that it was Elena who made our dream a reality. Rinat got admitted to a very good school in England. Then followed another school and university admissions. We spent countless days together, addressing any issues: academic, sports-related, and life-related. And I always saw that my child was in reliable hands. High professionalism, friendliness, and support in any form – that's how I would characterize Elena's and the team's work. Thank you very much for Rinat's achievements and for our parental peace of mind! I wish you, Elena, and your team success in your work, well-being, and all the best!'
Elena S., June 2023
亲爱的Elena
四年的时间很快过去了,在这里特别写这封信对你们这四年来对Tony的照顾表示十分的感谢。
从孩子第一次跨上飞机就开始得到你们各个方面的照顾。从入学,办银行卡,安排寄宿家庭,每次的接送,各个学期的家长会,以及平时各个方面给予孩子很好的关怀,任何小细节你们都做的面面俱到,非常细致,让我们家长非常的安心,放心;任何时候只要我们有需要帮助,你们总是在线,没有时差,总是第一时间解决问题,作为孩子的妈妈,在这里对你们的服务给予满分的评价。
谢谢你和你的团队。再次表示感谢
Tony妈妈戴
Dear Elena,
Four years have passed quickly. I am writing this letter to express my deep gratitude for the care you have given to Tony over these four years.  From the moment the child first boarded the plane, you have provided care in every aspect. From enrolment, setting up a bank account, arranging a host family, to every pick-up and drop-off, parent-teacher meetings every term, and giving the child excellent care in all respects on a regular basis. You are meticulous in every detail, which gives us parents great peace of mind and reassurance. Whenever we need help, you are always online, without any time difference, always solving problems as soon as possible. As Tony's mother, I give your service a perfect score here.  Thank you and your team. Once again, I express my gratitude.
Tony's mother, Dai , June 2023
 "We are very grateful to Elena and the whole team for a tutor they recommended. Experts from Best Start Education are constantly in touch with me and with the school. You can completely trust them to care for your child."
Nikolai
"The team of Best Start Education works really well, it gives people confidence. Good luck in your work!"
Alexandra
"My son takes Skype lessons with an English teacher – without having to travel. Thank you for the good work, responsible approach, flexibility and also for your patience and understanding! Well done!»
Anna
"Thanks to the staff of the company for consultations, their patience, respect as well as fast and high-quality work. Highly recommended."
Sergei
"I have been working with Elena and Best Start Education for more than five years. I completely trust them in all issues concerning my daughter's British education. The company helped my daughter with the choice of the UK school and admission processl. A lot of work has been done, including preparation for the entrance exams. If your child wants to get to a good school, then the thorough preparation is necessary. Choosing a school is not an easy thing to do. This is another country, another system of education. There is a lot of schools, but you need to choose the one that suits you. It`s difficult to do without a qualified help and It is also important to follow all the rules. Now my daughter studies at an English school. She is very pleased, and so am I. We continue working with Best Start Education, because other issues appear from time to time. For example, my daughter wanted to learn Spanish (as a second foreign language). She did not study Spanish before, that's why she was not offered Spanish classes at school. We called Best Start Education for help. In one year my daughter mastered Spanish at the level "intermediate". Now she studies the language at school and she is one of the best students. I also apply to the company for help when important parent meetings take place at the school. For example, in year 9, you must select subjects for GCSE. Together with the company, we met with teachers to discuss my daughter's situation. As a result, she chose the subjects for studies in the 10th year. She is happy studying at her school! Soon we will have to choose a school for A-level or IB and I will again apply to Best Start Education. I have known the staff of the company for a long time. I know them as responsible people and professionals in their business. They also have their own children who study in English schools. Many thanks to everyone at Best Start Education from our family! "
Irina (has been living in London for a long time)
"Best Start Education is a reliable partner. My cooperation with this professional team and personally with Elena began in the middle of 2014. They focused on the quality of work and the result when my daughter was preparing to get enrolled in the school. During the year of our cooperation, Best Start Education helped us to select 3 schools for admission, found tutors and provided support at all stages. The result of our cooperation today is that my daughter studies at a school that we are very pleased with. Best Start Education company is very special in their openness and readiness to hear and to help in solving all issues and new tasks. It's worth highlighting that Elena approaches each case individually. I am pleased to cooperate with Best Start Education and I recommend the company as a reliable and professional partner."
Victoria
The interview with Elena Polonskaya and her daughter Zhenya after Zhenya's language vacation in the UK
Elena, please tell us about your experience of sending your kid to study abroad. How was your daughter's trip to a summer language school? Did it meet your expectations?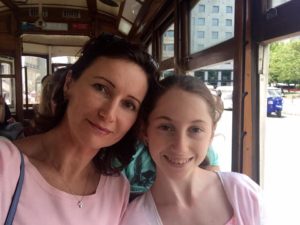 Elena: This trip has surpassed all our expectations. We wanted both – improve her English and have a nice vacation, and as a result, the summer was really wonderful. The most important thing is that we felt the caring attitude of teachers and the school staff. It started with the assistance of Best Start Education and their attention to details when we were choosing a language school. One of the keys to success is to correctly choose the course, based on what is really needed. First of all, experts from Best Start Education found out in detail all our preferences – they spoke with my daughter, evaluated the situation and then offered us options, all of which were very interesting to us. Right before the trip, we received detailed instructions on what we should take with us and other valuable advice. Everything went smoothly: we liked the place, accommodation, teachers and the programme. I'm very pleased!
How about academic achievements? Have you noticed if your daughter's English improved?
Elena: Her English has definitely got better! Not just better – Zhenya mastered a new level. Speaking in English is so much easier for her now. She speaks fluently and admits that she thinks in English sometimes. English practice in a language school is a totally different approach to learning a foreign language. Children do not feel like they attend some boring lessons, they are interested in the process, they play, and in between they memorize a lot of new information and useful words. As a result, the language barrier disappears, and a child himself does not realize how he starts communicating in English. To be honest, I go to a language school myself after I heard Zhenya speaking English fluently. Yes, she makes some mistakes, but her speaking is easy and free, and the grammar is much better than it used to be, even though we chose the easiest course possible. Again, while choosing the course, it is very important to consult experts who will select the best course that fits your child. Best Start Education did not offer us just typical options, they provided bespoke service with all explanations about schools and the learning process.
What advice can you give to parents planning to send a child to a language school during holidays?
Elena: It is better to prepare for a trip in advance! Of course, when you rely on the help of experts who take care of most of the preparation issues and communication with language schools, the process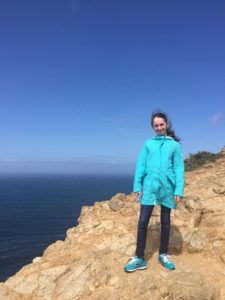 becomes easy. Nevertheless, the earlier you start, the more interesting opportunities you will have.
Zhenya, how did you like your summer in the UK ?
Zhenya (13 y.o.): A lot of interesting things! The things I liked the most are good teachers, our beautiful school and cozy rooms we lived in as well as many trips we had. The lessons were fun – we always played, talked a lot and we all became friends. I liked our school and its beautiful surroundings, especially green lawns and trees, and the food was delicious. I really want to come back next year! Most of all, I liked the trip to Oxford. It is very beautiful and just like in the pictures of England I had seen before.