A level results came out last week.  The overall pass rate remains the same as last year at 97.6% for students in England, Wales and Northern Ireland. Girls narrowly reclaimed the lead from boys, with 25.5% achieving A* and A grades compared with 25.4% of boys.  The figures, released by the Joint Council for Qualifications, also show that – for the first time – the number of girls taking the three sciences has overtaken boys at 50.3% compared with 49.6%. There has been a big push to increase the take-up of sciences among girls.  Although far more boys – 30,159 – still took physics A-level, compared with 8,799 girls.  Six weeks after the last A-level exams were taken, more than 300,000 18-year-olds have ended the anxious wait to learn their A-level results.
We look at different scenarios
1 If you do get the A-level grades you want
First of all – congratulations!  If you've received your results and are happy with them, you don't need to do anything other than  celebrate. You will receive a confirmation of your place at your first choice university (via UCAS), which will also outline what you'll need to do next.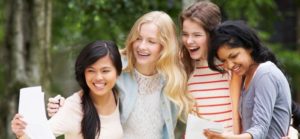 2 If your grades are a bit lower than you expected
In this case university might offer you an alternative course or a Foundation programme.
Otherwise, you may find that your second choice university has incredibly positive work prospects and accept their offer.
You can also find a course through the Clearing process. This is notoriously busy and quite stressful if you're not ready for it. It is good to be prepared and have a 'Clearing plan' in advance. This means identifying some other universities you'd like to attend, possibly even other courses.
3 If the results are disappointing, all your plans have been ruined
It is always upsetting not to get the results you were aiming for. However, the low A level grades are not the end of the world, but rather an opportunity to analyze your mistakes, prepare well and retake the exam in order to get the grades you need. We could find the best options for you and will be glad to share them. There are colleges we have been working with for many years, which can help you to retake exams after one year of studying. The admissions process is nuanced, however, our experience in this sphere will guarantee the positive results. Good grades for А-level exams are worth the effort. To improve your score, our tutors will help you understand the missing material and gain particular subject knowledge for exams.
We will be happy to assist you in finding the best solution!
Please contact us for professional advice: [email protected]
Тел. +44  79307  32407